About Cornelia Gamlem, Founder and President

Cornelia Gamlem SPHR, founder and President of the GEMS Group ltd, is a nationally recognized HR and management consultant, speaker, and author. She consults and speaks on a wide range of topics related to HR initiatives, business effectiveness and compliance, sexual harassment, employee relations, affirmative action compliance, and workplace diversity. With over 30 years of business and Human Resource experience, she served in a senior HR leadership role in a Fortune 500 IT services company with employees around the globe. Throughout her career, whether as an internal or external consultant, Cornelia has been responsible for designing, implementing, and managing corporate-wide policies, programs and initiatives, and best human resources and employment practices.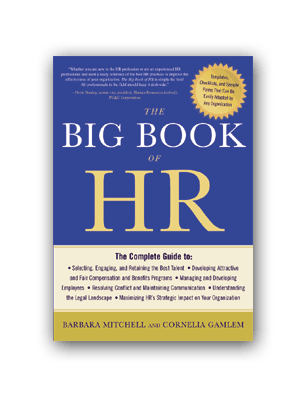 Together with her co-author, Barbara Mitchell, she has written The Big Book of HR, published in 2012 and The Essential Workplace Conflict Handbook published in 2015. They have a third book about employee relations in progress. They also write a weekly blog - Making People Matter.
Cornelia is also the co-author of Roadmap to Success: 5 Steps to Putting Action into your Affirmative Action Program and Roadmap to Success: AAP Briefing for Managers, available from Amazon. She writes articles and white papers for professional and industry publications.
A frequent speaker to business groups, she has been quoted in major publications including the Wall Street Journal, the Financial Times, Fortune, and the New York Times. Since writing The Big Book of HR, she has been interviewed in major markets around the country.
Cornelia has been active with national employers' groups focused on issues of equal employment opportunity, affirmative action and workplace diversity, where she served on a number of task forces that influenced public policy on these issues. She testified before the Equal Employment Opportunity Commission and served on Federal Advisory Committee formed by the U.S. Departments of Labor and Health and Human Services.
An active volunteer with the Society for Human Resource Management (SHRM), Cornelia held a number of volunteer positions at the national level, including serving on its National Board of Directors and chairing its National Workplace Diversity Committee.
She is a graduate of Marymount University where she earned a Masterís Degree in Human Resource Management and California State University, Sacramento where she earned her undergraduate degree in Business Administration. She is proud to have achieved Life Certification as Senior Professional in Human Resources (SPHR) from the Human Resource Certification Institute (HRCI).

Contact Cornelia Gamlem :>:
About The Gems Group :>: